2 Disember 2005
Sekali lagi, kami mengambil aktivisma 16 hari ke kaki-kaki lima dimana orang ramai berkerumun dan berjalan-jalan.
Kali ini, dua ahli KataGender beraksi melalui performance art yang dinamakan sebagai Tamparan Hebat.
Apa??
Mereka berdiri menemui each other, dan memberi tamparan diantara satu sama yang lain. Pada masa yang sama, ahli-ahli lain berkapur dikeliling mereka dan mengemukakan persoalan-persoalan: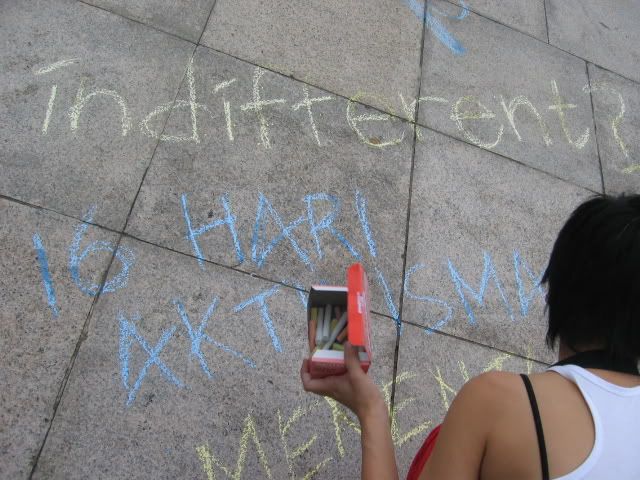 "Membisu?"
"Apa yang sedang berlaku?"
"Sampai bilakah ia akan berhenti?"
"Indifferent?"
"Bizzarre? Reality!"
"Why can't we talk about violence?"
"Stop violence against women"
dan sebagainya.
Aksi ini mempunyai
dua objektif:
1. Menonjolkan betapa peliknya fenomena keganasan terhadap wanita, dan apabila dibawa ke ruang awam instead of private spaces in the home, how ridiculous it is.
2. At the same time, how real it is. Tamparan itu bukan sekadar bermain-main sahaja, tetapi adalah perlakuan yang berdaya melukakan dan menyakitkan.
Apakah reaksi kamu
sebagai seorang spectator?
Hentikannya? Berdiri dan tersenyum-senyum kambing? Jalan dan lalu sahaja kerana menganggap bahawa ini bukan masalah anda?
Support from a member of the public
Kami mendapat bermacam-macam response. Some were curious, stood around and whispered amongst themselves. Ada yang mengambil gambar. Ada yang lalu sahaja dan membaca sms tanpa menoleh ke kanan dan ke kiri, atas atau bawah. Some came up to us and engaged us in conversation to ask us what the whole action was about. Some were showing their support by joining us in the chalking, initiating more conversations with the crowds that were forming around us.
Tapi... kami diusir. Sekali lagi.
Apabila kami beredar dan membuat aksi ini ditempat yang lain, inilah kisah enam aktivis yang ditahan oleh polis kerana berani menonjolkan kuasa kapur untuk menghentikan keganasan terhadap wanita.
Pelikkan dunia ini?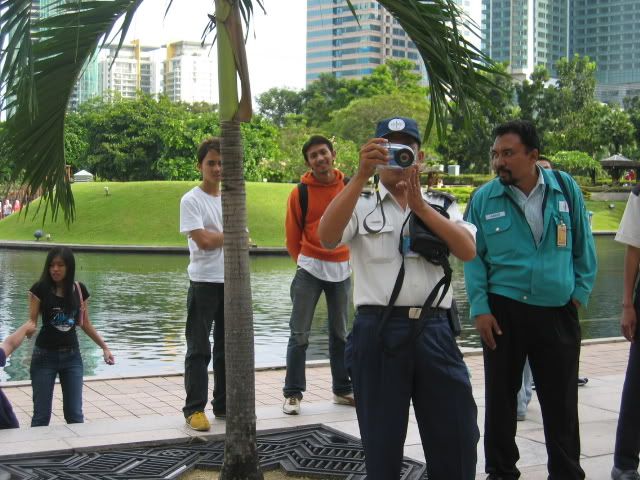 We set out to highlight the reality and ridiculous nature of violence against women. What happened to us in the end, highlighted to us the reality and ridiculous nature of State and Corporation's violence against our right to exercise our freedom of expression.
Check updates on
Meor
who was arrested on the same day, 2 December 2005, for daring to sing in public.